This is one of my and Mr. R's favorites. It makes a TON, is super easy and is just plain yummy.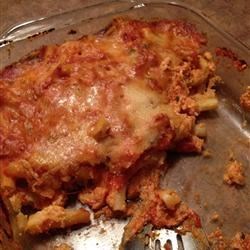 PREP TIME: 20 MINUTES
1lb ground beef (I use the highest grade available--less grease)
1 jar (32 oz) spaghetti sauce
1/4 cup Parmesan cheese (I use 3 cheese Italian blend)
Preheat oven to 375 degrees. Bring large stock pot to boil and cook ziti 8 minutes. While boiling pasta, brown ground beef (I usually mix in a little minced garlic and/or salt and pepper). Drain water from ziti and place back in large stock pot. Add beef. Mix in ricotta cheese, 1 3/4lb mozzarella cheese, and 3/4 jar of spaghetti sauce. Mix all together well. Lightly grease 9x13 pan. Fill pan with ziti mixture. Spread remaining spaghetti sauce over top of mixture. Spread remaining mozzarella on top of sauce. Finish with Parmesan mix. Bake for 30 minutes or until cheese is melted and lightly browned.