Hello friends! I am so sorry for the hiatus but I have been cruisin' around the Caribbean with Mr. R, my parents, sister and bff JEV! Wine, lots of eating, sun, blue water, sleep and fabulous family time, PLUS our first wedding anniversary. More to come on that!
I was so excited to come home to a FULL DVR of good tv from last week and started off with the CMA Awards. Now, I know I am about a week behind but here are my thoughts on the show.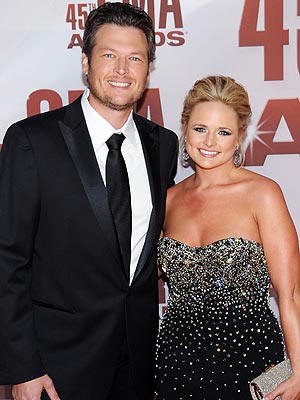 1. MIRANDA & BLAKE
We should start calling them "Mirake" or BlaRanda." They are not going ANYWHERE and my obsession continues with the Mrs. Blake Shelton. Literally she makes me stop in awe at her talent. I am not quite a fan of her fashion but DAMN the girl can entertain and sing...as well as her adorable hubby. Congrats to the couple for their matching Top Male & Female Vocalist of the Year Awards. Per Miranda in her acceptance speech: "Congrats to my hubby too! Its going to be a good night tonight baby!"
2. TAYLOR SWIFT'S SWEET (FINALLY NOT REVENGFUL) SONG
3. CARRIE UNDERWOOD'S DRESSES---OUCH
Carrie is such a beautiful and successful woman, my opinion is she could probably afford a new stylist/costume designer. Thoughts?
4. BEST PERFORMANCES, IN MY OPINION
I am by no means any expert but I beleive country singer/song writers can be some of the most talented in the music industry. They have a way of touching people with their tunes and words. These performances gave me chills or brought me to tears.
Zac Brown Band Featuring Greg Allman: Georgia on my Mind
Kenny Chesney Featuring Grace Potter: You and Tequila
(ps did you know that Miss Strawberry Wine herself Deana Carter wrote this song? AND that Grace Potter is touring with Kenny Chesney and Tim McGraw next year???!)
Martina McBride: I'm Gonna Love You Through This
Miranda Lambert: Baggage Claim
5. HIGHS & LOWS OF COUNTRY MUSIC FASHION
Highs

FAITH HILL

TAYLOR SWIFT
JENNIFER NETTLES
HILARY SCOTT
Lows

LAURA BELL BUNDY